Enterprise Architect for Business Analysts
Duration: 3 days – Expert led Enterprise Architect hands-on training
Innovative Business Analysts need to find better ways to improve project productivity, reduce risk, and to deliver business value. Learn why the IIBA© selected Enterprise Architect as their BA tool of choice and why they said Enterprise Architect is a "leader [in its field] … offering the BA community increased value and support, and helping achieve greater business outcomes." Business leaders need highly effective BA's, EA's, and PM's working as a team to ensure business outcomes are realized. Learn how Sparx Enterprise Architect harmonizes critical roles using a shared reuse repository.
This interactive hands-on workshop is focused on revealing best practices techniques when using Enterprise Architect as a comprehensive Business Modeling, Business Process modeling, and Requirements Management productivity tool. This workshop incorporates effective techniques based upon the Business Architecture Guild (BIZBOK©) and the International Institute of Business Analysts (BABOK©).
The numerous productivity techniques shared by our experts are documented to accelerate project deliverables by 40%. We invite you to join our Master BA, and Enterprise Architect SME, who will lead your workshop experience along with supplied course materials.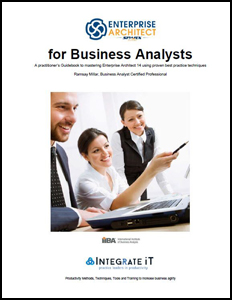 What You'll Learn
Delivering a Business Requirements Definition and Software Requirements Specification Project using Enterprise Architect Hands-on.
Practice developing an agile Business Requirements Definition (BRD
Business Analysis best practice techniques using the complimentary BIZBOK 4 EA Stencils
Model and document an agile Business Requirements Definition (BRD)
Trace Stakeholders to needs
Determine instantly the impact of any change
Model Business Strategy
Model Capabilities
Model Value Stream
Model Process structure
Model Information Architecture
Generate the BRD Website
Practice developing an agile Software Requirements Specification (SRS)
Business Analysis best practice techniques using the complimentary BABOK 3 EA Stencils
Practice modeling Business Processes using BPMN 2.0
Model and document Use Case stories
Practice Requirements Management and re-use requirements
Model, analyze, document and instantly trace requirements across the landscape
Generate web, spreadsheets, and word documents using reuse standard templates
Certifications
Sparx Systems Enterprise Architect – Certificate of Education Credits
LinkedIn Endorsement by our Industry Expert Workshop Leader
Who Needs to Attend
All students of Business Analysis
Business Analysts
Business Architects
Enterprise Architects
Software Engineers
Project Managers
QA Testing Analysts
Course Outline
Getting Started
Quick Start using Enterprise Architect
Loading your Course Case Study and EA software
Getting Started using a full life-cycle tool
Introductions
Understanding OMG UML modeling
Hands-on Workshop – What you will model, analyze, and generate
EDIT – Search in Model
VIEW – Project Browser, Traceability
PROJECT – Auditing, Resources, Security, Settings
PACKAGE – Documentation, Baselines, Code Generation
DIAGRAM – Creating diagrams, Toolbox
ELEMENT – Project Management, Testing, Maintenance
TOOLS – Gap Analysis, Relationship Matrix, Options
ANALYZER – Debug, Record
EXTENSIONS – MDG Technologies
HELP – Additional Resources
Business Architect
Business Architecture best practices
Select reference models, catalogs, matrices, and diagrams
Business Transformation lessons learned
BRD – Business Requirements Definition
Problem Definition
Business Vision Statement
Stakeholder Concerns Analysis
Business Context
Capability model
Process Value Stream
Process Scope
Business Collaboration
Service model
Conceptual Information model
Capability to Conceptual Information matrix
Stakeholders Needs Analysis
Road Mapping
Generate BRD website for Stakeholder review
Business Analyst
SRS – Software Requirements Specification
Roles catalog
System Context
Process modeling using BPMN 2
Scope of Work
Use Case to Roles Matrix
Modeling Use Case stories
Writing a Use Case story
Screen Prototyping
Data Requirements
Functional Requirements
Business Rules
Logical Data model
Traceability and impact of change
Baseline Version Control
Generating Documentation
Peer Review
Advanced Features
Tagged Values
Document Tips
Import CSV documents
Traceability
Model Document Packages
Virtual Documents
Linked Documents
Document Generation
Course Take Aways
Save time and immediately power up your practice during the course and your next project. Every participant receives the following course handouts:
Course Guidebook and practice Case study
Full Traceability from Strategy to Deployment using an INTEGRATED Repository model
INTEGRATED Toolbox Stencils for BABOK©, BIZBOK©, ITSM©, PMBOK©, and TOGAF©
Repository Help Screens make Sparx easy to learn and rapid to deploy
Work Packages Standard Templates to generate documentation
Pre-built reuse Catalogs, Matrices, Diagram Patterns
MS Word, MS Excel, and PowerPoint integration and reuse Templates
"The INTEGRATED Repository provided during the course saved twenty business analysts at our Fortune 10 Healthcare company many months of standards work and setup time, we began our critical project immediately after training. There isn't a week that goes by when I'm not using one of the productivity tools to help solve problems, speed things or make my team more productive." Fiona Lindberg, CBAP – McKesson Health Systems, Atlanta, GA
Testimonials
INFO – Sparx Systems CIO Magazine
Acceleration without sacrificing quality – Health Care Reform using Sparx Enterprise Architect
Closing the Gap – Dr Dobbs Interview featuring Ramsay Millar
"Sparx EA is, without a doubt, the business and software modeling tool bargain of the century." – Fiona Lindberg, CBAP, McKesson Health Systems, Atlanta, GA
"It has been nearly impossible to figure out how to use Enterprise Architect to manage a real project. INTEGRATE iT involved the entire project team and we are saving time and producing quality requirements within one week" – Ray Nygren, Business Analyst, Maximus
"I've been able to impose a new level of discipline on to align business and IT – we've eliminated the 'weak link' by creating a common business language(UML) between the business people coming in with requirements and the architects who are designing the new systems. The methods and techniques revealed are a breath of fresh air when I compare them to their predecessors – that performed like a herd of elephants." – Director of Strategic Planning, Major US based Retailer